Charon – Inner diameter inspection of syringes
The Vimec Charon inspection system is designed for inner diameter inspection of borosilicate glass syringes. The system inspects the minimum inner diameter at the back side of the syringe according ISO 1040-4:2015,IDT. One camera, which is aimed straight at the back of the syringe, takes an image.

Inspection principle
Lifter The syringes are presented to the cameras by a lifter unit, which
takes the syringes out of the conveyor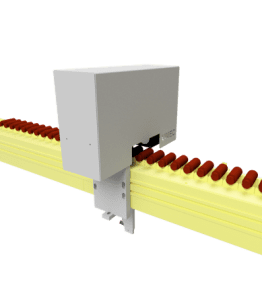 Inspection
One camera is used to inspect the syringe that is presentedin the inspection position. After inspection is completed, the results of the inspection are processed in the V-Center system control.