The Themisto, dimensional inspection of vials
The Vimec Themisto inspection system is designed for
inner diameter and total length inspection of borosilicate
glass vials.

Inspection principle
Lifter unit The vials are presented to the cameras using
a lifter unit, which takes the vials out of the conveyor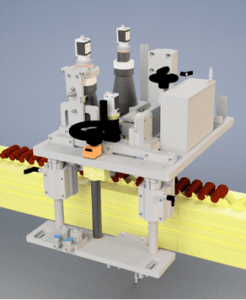 Inspection
Multiple cameras are used to inspect the vial
that is presented in the inspection position. Two
cameras are used to inspect the total length of the vial
and one camera is used for inner diameter inspection.