Product inspection types
Glass containers are nowadays the primary packing material within the pharmaceutical industry. Because of high transparency of the glass, these containers can be perfectly inspected on deviations. From a pharmaceutical perspective it is of the utmost importance to deliver the best quality of these containers. Vimec provides different kinds of inspection systems to support in quality performance. Typical inspection performed for class containers are:
Dimensional inspection;
Cosmetic inspection;
Print inspection.
Dimensional inspection:
To make sure that the product measurements are in line with high quality standards, we can provide dimensional inspection on several areas of the glass container. With the use of back light illumination we make the edges of the product clearly visible. We can then measure the desired area with a vision camera and let the software decide whether or not the container meets the high-quality standards.
For full inspection the products are normally rotated. This requires dedicated and stable handling of the products as misalignment or vibration may cause incorrect measurements. Inspection without rotation is also performed. In some cases rotation is not an option due to production speed, product shapes, production process etc. In such situation we can make multiple image views to get a full view (360 degrees) of the product.
Cosmetic inspection
To make sure that the products' surface are in line with the high quality standards, we can provide cosmetic inspection of the glass container. This cosmetic inspection is done while we rotate the product in front of a camera, which results in a complete overview of the products' surface. The cosmetic inspection performed on formed and/or shaped products requires dedicated illumination and adequate viewing angles.
For formed products, multiple viewing angles may be needed for accurate inspection. With a single view, a lot of defects can be detected but usually specific defects may not be seen. Adding additional viewing angled provide a synergy in defect detection (overlapping in detection). Also for specific locations additional viewing angles may be needed.
Print inspection
To make sure that the information which is printed on the glass container is readable, we can provide print inspection. This kind of inspection is used to detect defects such as damaged letters, incomplete symbols, false lot number or incorrect expiry dates. In the pharmaceutical industry the need for correct 'readable' text has been defined as a critical factor. False and/or not complete information may lead to incorrect use of the content. With today's global economy products that are sold in a foreign country could be produced in a different country of origin. Especially when the languages are different, it sometimes becomes impossible for operators to perform quality check on the print (comparing English to Arabic or Japanese).
Printing inspection requires a special optical and illumination principle, especially when flint glass products are concerned. With regular inspection, the print on the foreground can become unclear by the print on the background. This makes it very hard to see detects (missing print, damaged print).
Conveyors
Vimec is also capable of delivering different modifications of conveyors for the transport of products. With the possibility to adjust the conveyor in different lengths, heights and widths there is always a fitting solution for every situation.
In-line versus off-line systems
Vimec concentrates on in-line inspection systems. These in-line inspection-units can be anywhere in the glass-productioncycle, where we typically see most inspections taking place in the cold-end. Hot-end inspection-systems are part of our portfolio in vials and ampoules.
In addition to in-line systems, we also offer automated off-line inspection systems in order to collect data on products taken out of a batch. This can either be in the glass-production facilities, or at incoming inspection of the customer.
Off-line systems are always cold-end inspections; two examples are MIMAS for moulded glass and TITAN for vials.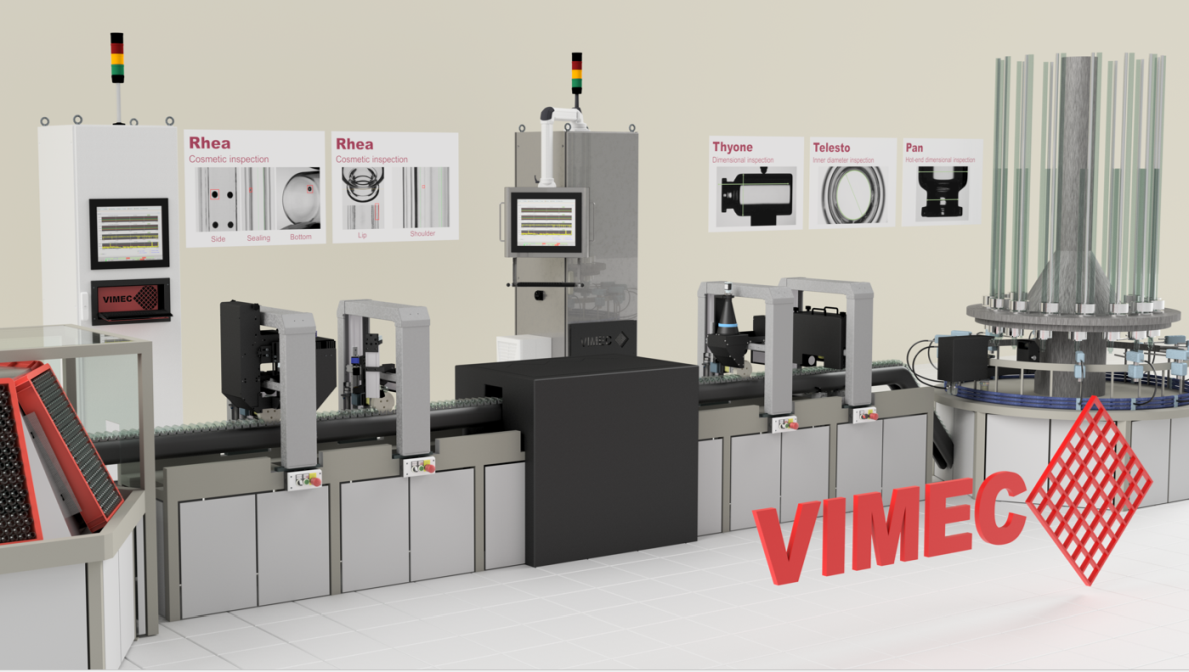 Graphical illustration showing the tubular production line from right to left.
Forming machine

Vimec Hot end dimensional inspection system

Line before oven

Vimec dimensional inspection systems on line

Line after oven

Vimec cosmetic inspection system